Add GAY USA to Your Favorites!

Help GAY USA Maintain a Quality TV Program and Website

(a Pay Pal link coming soon!)

Contribute Online Safely!

Link to Us

Text Link-

copy and paste the html below to your website:

Graphic Link-

save the graphic below to

your computer and upload

it to "your url":

then, copy and paste the html

below to your website:

--Show #145
Brothers and Sisters,
This week for the second half of our show, we are pleased to welcome back Tom O'Neil, author of some definitive books on award shows from Oscar to Grammy and the host of
www.TheEnvelope.com
at the LA Times website that keeps us up to date on who is up and who is down in the race for movie gold. We'll discuss all the year's top films with a special emphasis on those with LGBT themes from "Brokeback Mountain" to "TransAmerica."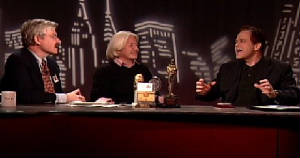 Andy, Ann and Oscar (a real one) with Tom O'Neil
We'll also discuss the election of Christine Quinn, an out lesbian, as Speaker of the New York City Council, the town's second most powerful post and all the latest LGBT and AIDS news.
"Gay USA" is seen in
Manhattan
on MNN on Thursdays at 11 PM on Time-Warner 34 and RCN 110 and simulcast at MNN.org channel 34. It is distributed nationally on the Dish Network through Free Speech TV. Go to
www.FreeSpeech.org
for schedule
Happy New Year,
Ann Northrop and Andy Humm
co-hosts
***
--Show #144
Brothers and Sisters,
The news is full of the government's abuse of civil liberties these days. Eileen Clancy and her colleagues at I-Witness Video have been documenting police abuses at public demonstrations for years now. Their work led to a front-page story in the New York Times this week, "New York Police Covertly Join In at Protest Rallies."
Eileen is our guest this week and she shares with us what we can do individually and collectively to stem this tide of abuse. You can learn more about her work at
http://iwitnessvideo.info/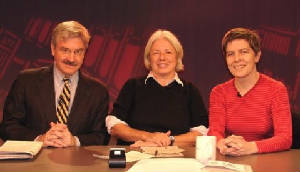 Andy and Ann with Eileen Clancy, I-Witness Video
photo: Bill Bahlman, associate producer
We'll also do our year-end round-up of news and entertainment, discuss the death of Dr. Charles Socarides, the most notorious anti-gay psychiatrist in history (and he had a gay activist son), new hope for homeless LGBT youth in New York, a decision protecting group sex in Canada, and all the latest AIDS and international news.
"Gay USA" is seen in
Manhattan
on MNN on Thursdays at 11 PM on Time-Warner 34 and RCN 110 and simulcast at MNN.org channel 34. It is distributed nationally on the Dish Network through Free Speech TV. Go to
www.FreeSpeech.org
for schedule
Happy New Year,
Ann Northrop and Andy Humm
co-hosts



TV Schedule
1/1 - 7/05
GAY USA

is seen at 11:00 pm, Thursdays on MNN in

Manhattan, Time-Warner 34 (

simulcast at MNN.org); and at RCN 110:

GAY USA is distributed nationally on the Dish Network through Free Speech TV. Use this week's TV Schedule below, by time zone. Or, go to FreeSpeechTV for more information:

Eastern Time

FREE SPEECH TV:

1:00 am 01/02 #144 TVPG

8:00 pm 01/03 #144 TVPG

11:00 am 01/06 #145 TVPG

8:00 pm 01/06 #145 TVPG

3:00 am 01/07 #145 TVPG

7:00 am 01/07 #145 TVPG

6:00 pm 01/07 #145 TVPG

11:00 pm 01/07 #145 TVPG


Central Time

FREE SPEECH TV:

12:00 am 01/02 #144 TVPG

7:00 pm 01/03 #144 TVPG

10:00 am 01/06 #145 TVPG

7:00 pm 01/06 #145 TVPG

2:00 am 01/07 #145 TVPG

6:00 am 01/07 #145 TVPG

5:00 pm 01/07 #145 TVPG

10:00 pm 01/07 #145 TVPG


Mountain Time

FREE SPEECH TV:

11:00 pm 01/01 #144 TVPG

6:00 pm 01/03 #144 TVPG

9:00 am 01/06 #145 TVPG

6:00 pm 01/06 #145 TVPG

1:00 am 01/07 #145 TVPG
.
5:00 am 01/07 #145 TVPG

4:00 pm 01/07 #145 TVPG

9:00 pm 01/07 #145 TVPG

Pacific Time

FREE SPEECH TV:

10:00 pm 01/01 #144 TVPG

5:00 pm 01/03 #144 TVPG

8:00 am 01/06 #145 TVPG

5:00 pm 01/06 #145 TVPG

12:00 am 01/07 #145 TVPG

4:00 am 01/07 #145 TVPG

3:00 pm 01/07 #145 TVPG

8:00 pm 01/07 #145 TVPG